Rubber inflatable boat for rent season 2020, riviera Trogir
If you would like to enjoy the real vacation in Croatia and Trogir Riviera, then the best thing to do is to rent a boat and explore the Adriatic coast and islands. Vast majority of tourist that visit Croatia never experience Croatian coast from the sea. Renting the boat gives you ultimate freedom in exploring the coast and the islands, finding peaceful spots, beaches and coves where you can enjoy and relax to the maximum. Every day you can run away from the noise of crowed tourist destination and find your own piece of paradise on Croatian coast, and every day your new piece of paradise. If you would like to explore nearby islands on a day-trip, you can do this with a speed boat, avoiding crowded and expensive ferry ports, and not depending on small number of ferry connections. With a speedboat the entire archipelago of central Dalmatia will be easily accessible for you, with greatest comfort and lowest price.

Having all this in mind, we have prepared for you and ideal boat in our offer, an inflatable boat which is perfect for the exploration of the Riviera of Trogir and entire Adriatic archipelago. The boat is large enough for a family, and with low consumption makes it ideal investment for completely different experience of Dalmatian coast and nearby islets and islands. With full tank (60 liters) you can pass more than 100 miles which is enough to explore many islands in central and even northern Dalmatia. With this small yet powerful rubber inflatable boat nearby islands like Drvenik, Vis, Brac and Solta, as well as the entire coast of the Riviera of Trogir which will be at the palm of your hand. Below you can find basic technical specifications and prices, and for all additional information please do not hesitate to contact us.

In order to rent the boat, you are required to have maritime license and berth for the boat. The rental is possible only for 7 days or more, preferably from Saturday, but we will also consider other days in the week. The boat is equipped with all necessary standard equipment needed for the normal operation of the boat on the sea. The list of the equipment can be found below. The boat is delivered to the location of your preference, usually in the early afternoon of the day of the start of the rental period, in any place on the Riviera of Trogir.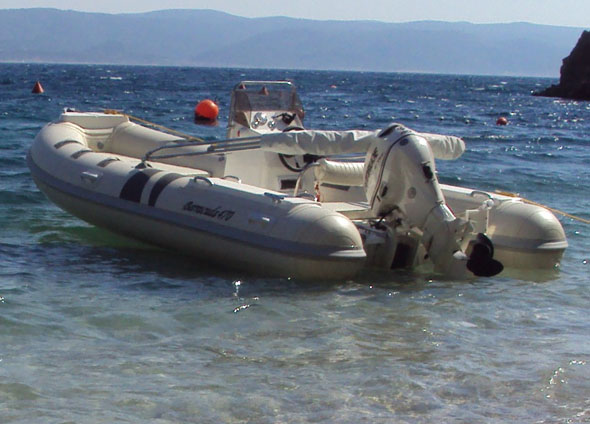 Technical data
RIB: Barracuda 470, year 2010
Engine: Evinrude E-TEC 40 HP, 2-stroke direct injection, 863 ccm
Fuel tank: 60 l
Width: 2,52 m
Length: 4,70 m
Consumption at max speed (28 mph): 16 l/h
Consumption at cruising speed (21 mph): 7.5 l/h
Max number of persons: 6
Bimini (sun protection), stairs, pillows for sunbathing

Price per day: 120 EUR, rental possible only for 7 days and more
Obligatory: maritime license
Kontakt: