Trogir, the center of the Trogir Riviera is a town with approximately 13000 inhabitants, situated in the heart of Dalmatia, 20 km west from the city of Split. The Adriatic tourist road is located in its immediate vicinity and connects it well with neighboring places: Kaštela, Solin, large center - Split, and smaller municipalities: Seget, Marina and Okrug (on the island of Čiovo) which were once part of this Riviera.

Frequent bus connections with the surroundings make it approachable from all sides, and also with other large Croatian centers. The boat routes towards Split and the neighboring island of Drvenik Veliki and Drvenik Mali are also good, especially during the summer season.

The vicinity of the airport connects the town with the entire world.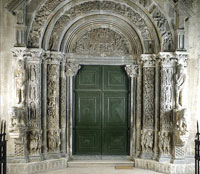 The natural protection and spaciousness of the harbor, the favorable accommodation on the small island between the land and the island of Čiovo, and the fair climate were the main reasons for establishing the town.

Many nations have changed and mutually assimilated in this small area: Illyrians, Greeks, Romans, and then Croats. It was also under Venetian, French, and Austrian authority. They have left their traces, but despite all of this, the Croatian people and their language stayed preserved during the stormy Trogir centuries till the present day.
The city of Trogir, Marina, Seget Donji, Seget Vranjica, Vinišće and the island of Čiovo make up the Trogir Riviera. This area is rich with Mediterranean vegetation, olive groves and vineyards, numerous islands and bays, sand and pebble beaches .

Except for high quality accommodation in hotels, boarding houses, apartments, camps and homemade delicacies, especially fish specialties, it also offers a wide variety of sport and recreation. The coast of the Trogir Riviera is separated with smaller bays, capes, and islands with lush Mediterranean vegetation, still preserved in its original form.

This is favorable for those who are attracted to cruising along the Adriatic coast. The climate is favorable with mild winters and warm summers which are cooled by the pleasant wind – the maestral.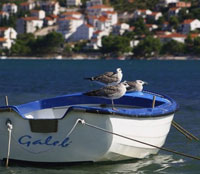 We invite you to visit Trogir and to see its unique memorial heritage for which it was recorded in the Register of World Heritage of UNESCO in 1997, its small Dalmatian towns in its surroundings, stunning beaches and nearby islands. We wish you a pleasant stay!